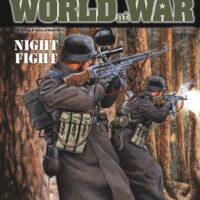 Dr. Roger Mason's war game Night Fight has just been published by Decision Games in the current issue of World at War magazine. This is a solitaire game simulating tactical combat on the Eastern Front during World War Two.
The player leads a small unit of the German Army against the Russian Army in fighting during 1943. The individual pieces in the game represent small numbers of people and equipment.
What makes the game unique is Dr. Mason's use of artificial life theory to move the Russian units. Artificial life differs from artificial intelligence in that artificial life seeks to artificially simulate activities common in living systems or beings. Artificial intelligence often seeks to simulate thinking or learning.
In Night Fight the player is playing against an automated opponent that does not rely on artificial or computer supplied intelligence to move. This type of solitaire game is common in computer based war games where the player plays against the computer. It is very rare in analog or conventional tabletop style war games. The graphics and follow up work necessary to bring this game to publication were supplied through the hard work and artistry of Eric Harvey and the staff of Decision Games. The eminent war game designer and LECMgt contractor Joseph Miranda helped to get the rules set into publication order.
Dr. Mason is currently working on an article regarding the use of artificial life theory in analog game design.