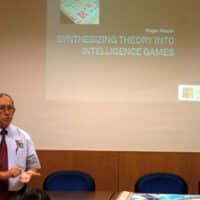 Dr. Roger Mason was a guest of the Center for Intelligence Services and Democratic Systems (SISD) at Juan Carlos University in Madrid, Spain. Dr. Mason was invited to present a seminar on war gaming and intelligence analysis by Dr. Ruben Arcos who is the Deputy Director of the Center. SISD offers a master's degree program for students interested in a career in competitive or strategic intelligence. Dr. Mason and Mr. Joseph Miranda designed a game for this seminar.
The game demonstrates the use of war games to test possible courses of action related to intelligence analysis. The game is based on the Roman Civil War of 49 BC. The students were divided into teams representing Caesar's faction or Pompey and the Roman Senate.
The game is divided between military action and attempting to influence and control the Roman Senate. After 90 minutes of spirited play the students conducted a debrief of the game. One student commented, "Capturing Rome and influencing the Senate is a much more complex problem than I initially thought."
LECMgt is proud to support higher education and help develop the next generation of intelligence analysts.